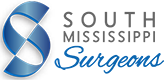 GENERAL SURGEONS
---
LOCATIONS
Pascagoula
2525 Telephone Road
Pascagoula, MS, 39567
Ocean Springs
1124 Oakleigh Road
Ocean Springs, MS, 39564
Biloxi
147 Reynoir Street, Suite 306
MS, 39531,
General Laparoscopic Surgery
General surgery has one of the broadest scopes in medicine. Our surgeons are certified by the American Board of Surgery and have specialized knowledge and skills relating to the diagnosis, pre-operative, operative and post-operative management of surgical problems in the following areas:
Alimentary tract: esophagus, stomach, small bowel, large bowel
Abdomen and its contents: diaphragm, biliary tract, liver, pancreas, spleen
Breast, skin and soft tissue: benign and malignant disease
Head and neck: including trauma, vascular, congenital, and cancerous disorders
Vascular system: arteries and veins, excluding the vessels in the brain, heart and lungs
Endocrine: thyroid and parathyroid glands, the pancreas and adrenal glands
Surgical Oncology: including coordinated management of the cancer patient
Comprehensive management of trauma in all phases of care for the injured patient
Complete care of critically ill patients with underlying surgical conditions
Additionally, our general surgeons perform emergency surgery, in-office procedures and more. The above list is not exhaustive. But, it does give you a sense of the breadth and depth of care offered.
Certainly some of the most common operations include hernia repairs, gallbladder removals and surgical exploration of the colon.
Advanced Laparoscopic Surgery
Advanced laparoscopic surgery is the next level of minimally invasive surgery. The surgeon operates through small incisions and ports made in the skin rather than creating a large incision to perform what's known as an open operation.
But what makes it more advanced is the nature of the procedures our general surgeons are able to perform this way. For example, liver resections, total gastrectomies, colon surgery, foregut surgery and other major operations can be done laparoscopically by our surgeons.
The benefits of advanced laparoscopic surgery can include less pain, less scarring and faster recovery. Of course, the best method is determined based on individual patient circumstances. So, be sure to talk to your surgeon about what's right for you.